Flýtilyklar
COMMERCIAL DRIVING LICENCE - November 2023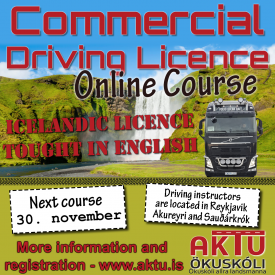 Commercial driving license in Iceland.
Online teleconference course taught in English.
The first part covers basic knowledge and is taught over two long weekends (Friday to Monday).
The second part covers different license requirements. And does also cover most of two weekends. You have to decide which license categories you are after during registration.
Driving instructions will be available in Reykjavik, Akureyri and Sauđárkrók. Driving will be tought alongside the theory course.
You have to be able to speak and understand English well to finish this course.
Be aware that most unions offer scholarship for a course like this.
Courses are taught through the Zoom or Teams teleconferencing software; for students to participate, they must have a webcam turned on and be able to communicate with teachers and other students in English. 80% attendance at the teleconferences and participation in classes is required.